Online Therapist
Inner Child Therapy

(via Transactional Analysis).
Therapy for individual, couple, family and student.
Depression, anxiety, burnout, hypersensitivity, relationship/family problems…

Because many of your daily struggles can be traced back to events from your childhood, meeting and befriending your Inner Child is a key step into your therapeutic process.
"Start from zero, meet your Inner Child" 
Hi there! My name is Elise and I'm here to guide you through this particular journey of meeting your Inner Child!
Graduated in Psychology
Jean-Jaurès University – Toulouse (France)

Trained in Transactional Analysis
La Fabrique des Embellies – Training Institution – Annecy (France)
La
??‍♀️ What does "Inner Child" mean ?
The Inner-Child, symbolically represents, the full spectrum of all the behaviors, emotions, and thoughts you had during your childhood.
All together they shaped behavioral patterns in order to adapt and anticipate your environment. When some serve the well-being and balance, some may be toxic. As you grew up, those patterns became deeply anchored and may alterate your present experience of life.
The Inner Child therapy is here to help you identifying your toxic patterns and transform them into healthy ones.
"The Inner Child needs to be seen, heard and loved if, as an adult, you wish to transcend your life."
You'll also be able to see how you internalize and perceive the world and how this makes you either enjoy it or see it as an eternal struggle.
"Self-understanding is the first step of empowerment."
My therapeutic tools

I use a unique therapeutic and educative approach inspired by Eric Bern's Transactional Analysis* and the latest neuroscience and cognitive researches.
Dialogue is at the heart of my practice but I also use (if necessary) tools that allow me to work directly with your unconscious, because here are where the problematics of the Inner Child lie. See bellow, in short, the 3 tools that can be used in a session :
Hypnosis techniques allow you to transform persistent toxic behavioral patterns.
Artistic creation allows you to materialize your inner life.
During sleep, lucid dreams are accessible to all with practice. I can teach you how to and techniques to use them for therapeutic purposes!
*Transactional Analysis allow to identify the internal dialogue between your 3 ego states : Inner Child, Inner Parent and Inner Adult to understand your daily patterns and behaviour.
(More information about it is available in the FAQ section at the bottom of the page).
BENEFITS OF INNER CHILD THERAPY INTO YOUR DAILY LIFE 
Gets you to a healthier relationship with yourself and your loved ones.
Initiates an assertive communication of your needs/desires/limitations.
Gives you confidence in your intuition and wisdom to take the right decisions for you.
Allows you to open/feel your emotions and regulate them.
Materialises the direction you wish to take in your life.
Encourages your creativity/your full potential.
Meeting and creating a strong connection with your Inner Child will lead you down this path.
??‍♀️ For whom is this kind of therapy directed?
Like Simone, Daniella and her son, allow more confidence and fulfillement into your life by exploring the relationship with your Inner Child.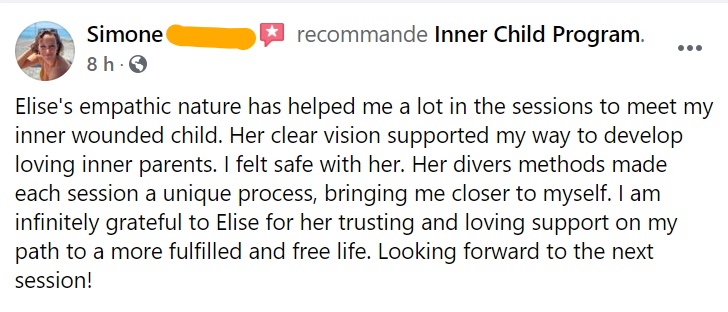 Simone, 42yo – from Germany
Daniella, 39yo – from Hongary
"Embrace your vulnerability to get closer to your Inner Child"
Good question!
I feel like a being in constant evolution, like I have had several lives in one. Maybe this feeling is familiar to you?
Beyond diplomas and training, I am first and foremost human. Like you, my life has been a tapestry of joyful, painful and sometimes traumatic events. Intense moments of happiness, solitude and doubt have also marked my path. At times, the meaning of "Me" has become confused. "Who to be?" and "What to do?" are questions that have come up from time to time.
I became interested in psychology during my many travels and through my studies. I have a degree in Psychology, and I have also trained in Transactional Analysis, Art Therapy and Hypnosis.
I am here to accompany and guide you. I will be your faithful ally during this journey to meet your Inner Child. You are not alone.
Like Anthony and Nanny embark into the Inner Child Program that I've created and let every aspect of yourself that don't serve you go away.
Anthony, 28yo – from America.
Nanni, 36yo – from Germany
2 ways to work with me :
Book a session or the Inner Child Program.
"Let the child within shine!"
Inner Child Therapy session



1 Inner Child Therapy session
Explore the world of Inner Child Therapy through on-demand sessions. In this session format, you decide when you come to work on yourself. At the beginning of each session, we will see what the needs are and where you are in the process of meeting your Inner Child, Inner Parent and Inner Adult.
Duration : 1h to 1h15
Because exploring your inner self cannot be interrupted abruptly, the session leaves a 15 minute margin to end naturally.
* For the In-person sessions, meetings will follow striclty Covid's recommendations.
12 sessions spread out on a weekly basis (including 2 offered).
The program is a succession of Inner Child Therapy sessions following a regular progression. It targets and addresses specific life issues within 12 sessions spread out on a weekly basis.
During the first session we identify together your demand and then in every session, different exercises will allow to follow up the process you engaged in. This weekly accompaniment allows you to meet and dialogue with your Inner Child, Inner Parent and Inner Adult in order to evolve on the initial request.
Duration : 12 weeks.
1 session (1h to 1h15) per week.
600 EUR
500 EUR
Payable in two instalments of 250€.
* For the In-person sessions, meetings will follow striclty Covid's recommendations.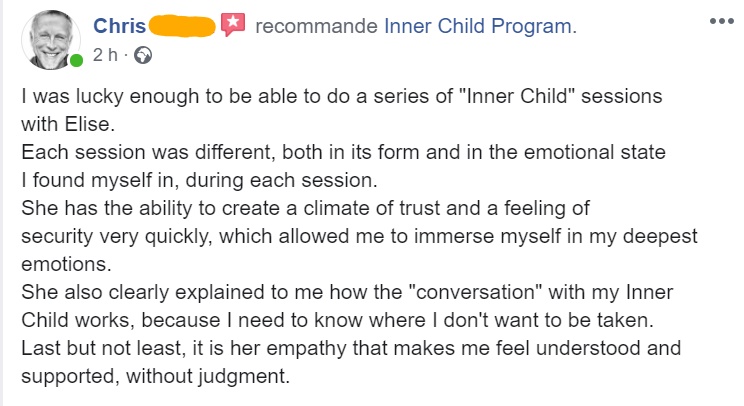 Chris, 64yo – from France
Booking /
Information
Appointments from monday to friday – 9am until 8pm.
Frequently Asked Questions
What can Inner Child Therapy help me with?
The Inner Child therapy helps you identify unhealthy behaviours and thoughts intoxicating your daily life. The program I offer will help you unleash yourself from them.
Here are some examples of themes we can work on during sessions:
Meet your Inner Child, Parent and Adult

Manage your internal conflicts
Enhance your self-esteem and your trust in your intuition
Identify your inner toxic beliefs
Harmonize your mind and body
Accept yourself and befriend your body
Transform your defensive mechanisms that don't serv you
Identify your needs, fears and non-negotiables
Set up your boundaries
Recognize your inner strength and beauty
Activate your full creative potential to transcend your projects
etc…
How many sessions do I need to experience positive changes?
It obviously depends on your needs and your motivation!
In a personal development context or for temporary problems, it can take from 5 to 12 sessions. If the work is based on a trauma/traumas, it is not measurable and depends on its severity. But I don't recommend getting too tied with numbers. Personal development is a journey full of surprises that can lead to many different paths. We are here to explore those different paths.
The good news is that your brain learns fast. Its plasticity (its flexibility to learn) is limitless.
Throughout your life, your brain produces what we call "neural connections". In a more poetic way, we could call this "the art of adaptation". However, it is during the first 6 years of your life that they develop in a phenomenal way. It is the brain's way of understanding and adapting to the world. These neural connections create habits and reactionary mechanisms to reduce the uncertainty of a constantly changing environment. Some of these are healthy, others can be toxic over time.
Thus, throughout childhood, the brain builds "neural routes" activating the same chain of neurons, while other neurons deactivate. As an adult, these neural routes become "highways" or "behavioral patterns" if you will. And that's why you often feel trapped in repetitive behaviors, thoughts or emotional reactions.
According to new neuroscience studies, it takes about three months to transform old behavioral patterns into new ones. In this sense, you can identify which "neural highways" are unhealthy for your daily life and develop, with an adapted therapy, new "neural routes" that will soon become beautiful highways with a little practice and consistency.
The Inner Child Program will help you in this regard. Weekly sessions will give you the necessary tools to slowly but surely acquire new healthy behaviors. Behaviors that will soon become solid foundations of your personality.
How long last a session?
By default, a session lasts 1 hour. However, you can extend it by 30 minutes chunks. You can therefore book for 1h30, 2h, 2h30, 3h etc. The price will vary accordingly.
However, I always leave a 15 minute margin at the end of the session so that it ends naturally and not abruptly.
Is the Inner Child program suitable for children or couples?
Yes it does!
For children the approach is different in a few ways. Indeed, before going through verbal communication, the child prefers to express himself through body expression, games, drawing to apprehend his environment. A child is more in action than in speeh.
We therefore use different games, drawings, and even sophrology to allow the child to express himself and feel his emotions.
I have worked with children in the past on a variety of topics, such as: improving self-confidence, being more verbally expressive, improving self-esteem, or allowing them to express different types of emotions: joy, fear, anger, sadness…
Moreover, the Inner Child Program is perfectly suited for couples or any relationship in general (family, work colleagues…) since Transactional Analysis¹ (the approach I use in my program) is based on the dialogue between your Inner Child, Parent and Adult. It is then easy to transpose and analyze these dialogues in an interaction between two or more people.
In the past, I have helped couples and co-workers who had communication problems and conflicting relationships. I have also helped couples deal with sexual frustration or blockages.
¹ Check out the next question to learn more about Transactional Analysis!
What is the Transactional Analysis from Eric Berne?
Transactional analysis (TA) is a theory of the personnality's construction. It can be used in therapy, as it allows for an understanding and a fine analysis of the way you have adapted to your environment, notably through the creation of reactionary patterns developed since childhood and still anchored in adulthood. Eric Berne identifies these reactionary patterns as a conglomeration of Thoughts, Feelings and Behaviours, which he calls the "Ego State". 

He noted that the Ego State is constantly changing depending on the situation and impacts posture, voice and expression at every moment. He recognized that these changing manifestations were sometimes childlike, sometimes parent-like, and sometimes adult-like. He named these three distinct Ego States:
"Inner Child", "Inner Parent" and "Inner Adult".
When you are in the Inner Child state you think, feel, and behave the way you did in your childhood.
In the Inner Parent state you think, feel and behave the way your caregivers and people of authority in your life did. From the earliest past to the present.
In the Inner Adult state you behave logically, appropriately, and you respond to the here and now. You oriente yourself by questioning, explaining, processing datas, solving problems, deciding what is best for you…
Berne believed in the commitment of curing his patients rather than simply understanding them. To this end, he introduced one of the most important aspects of TA: "the Contract", which is an agreement between the patient and the therapist to materialize the specific changes the patient wishes to make.

David, 41yo – from France